Fashion design software fast and easy-to-use: discover our solutions
24 September 2018 10:59 - 10:59
The current needs of the fashion industry can be very demanding. The ability to meet calendars in a fast and creative way, while at the same time dealing with fashion fairs, corporate and customer presentations, commercial and production requirements, are the standard factors of success. To speed up the design time of the garment and model design it is necessary to have a fashion design software to draw clothes for both sketching and a CAD for pattern making.
Tex-Design is the fashion design software of Crea Solution that also speeds up the coloring and presentation phases. Provided with numerous and unique features that allow you to transform creative ideas, as well as the line as a whole, into a virtual reality. The reliability and versatility of Tex-Design is proven every day by more than 3,500 fashion designers all over the world, which serves as a design studio. Tex-Design is available in various versions, each of them with specific drawing functions, allowing you to meet certain design requirements. This versatility of this fashion design software to design clothes is the ideal solution, not only for small, medium and large textile and packaging companies, but also for small design studios and independent stylists.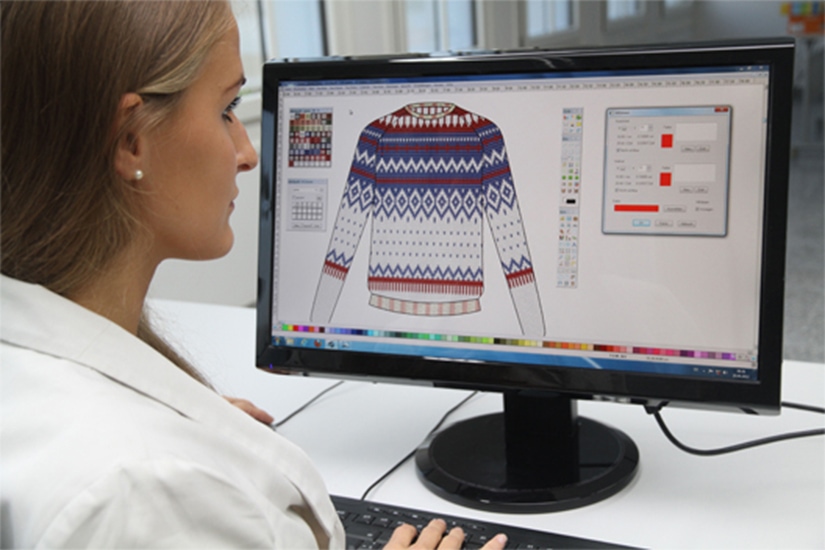 What are the features that must necessarily have a fashion design software for sketching clothes?
✓ Simultaneous presentation of various drawings on screen with the possibility to select them and move them freely.
✓ Unlimited size and resolution of images.
✓ Reduction of time in the drawing process, color cards and instant variant.
✓ Import and export files of any standard format (bmp, tif)
✓ UNDO function at 255 levels, specific UNDO.
✓ Contextual HELP system.
✓ TIP tools for instant information.
✓ Graphic adapter with 256 real colors.
✓ Special keys for frequently used commands.
✓ Scan of photos, fabrics, drawings and sketches.
✓ Quick and easy interactive or automatic color reduction system.
✓ Options to crop and prepare presentations.
✓ Automatic pixel cleaning.
✓ Creative elaboration of drawings using various tools: pencil, curve, airbrush, stitching, ….
✓ Solid color filling.
✓ Color protection in real time without the need for calculation.
✓ Stitch library for the decoration of your drawings.
✓ Automatic drawings through the use of bitmap libraries of packages, sleeves, pockets, …
✓ Quick variant creation.
✓ Coloring figures and fabrics using RGB, CMY, or HSV.
✓ Creation of color cards for the generation of similar colors.
✓ Change of contrast and shine.
✓ Print in real color and in various formats.
✓ Simulation of fabric effects during printing.
✓ Magic Lasso for quick selection of objects.
✓ Insertion of texts with TRUETYPE characters.
✓ Numerical positioning of the cursor for precision work
✓ Measurements and coordinates in inches, cm and pixels.
Immediately after the sketching phase it is necessary to geometrically translate the stylist's idea: the clothing pattern is the technique that allows to industrialize the garments guaranteeing a perfect fitting for any size. The CAD for clothing are fashion design software that reduce to the maximum the operation of the pattern maker in order to obtain the most accurate result possible avoiding human errors.
The fashion design software CAD to design clothes Create is an innovative software that makes pattern making quick and easy. Digitizing is done through a special pen that can detect any type of curve accurately and easily and with just a few dots or through a camera, scanner or blackboard. Create offers intuitive and effective software tools suitable for creating new models and archiving existing ones.
The pattern maker is helped by various work tools and commands that follow him for his creations. Icons and tools are organized in functional order: the "Length comparator" from the dialog box is used to compare the length of the lines of multiple model segments; while the "Insert Tools" bar is used to add folds, seams, make holes, carvings, etc.
The production characteristics that distinguish Create, the CAD fashion design software of Crea Solution are primarily the ease of use and the intuitiveness of the windows-based platform, which allows model makers to be autonomous after just five days of training.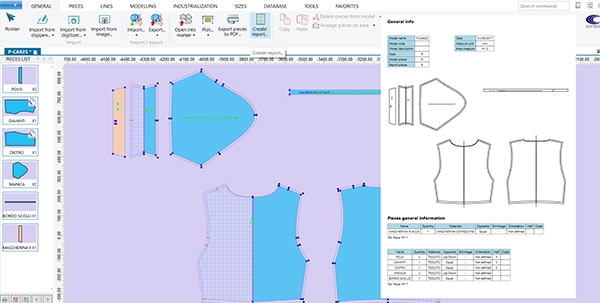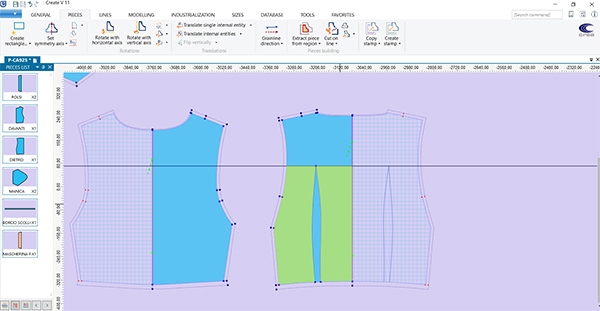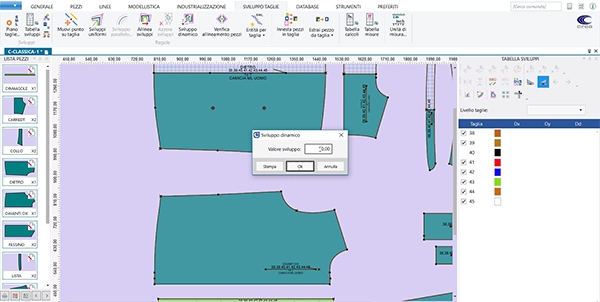 Among the various features we find:
Wide range of sophisticated controls suitable for the production of the pattern: filming, folds, seams, special angles, advanced measurement techniques, complicated curves, tailored variations, lapels and more.
Direct importers of proprietary formats
Fast and sophisticated files to facilitate research.
Numerous commands to speed up single or multiple functions: output, closing, copying, fixed rotation, overturning.
Numerous functions for creating and executing folds.
Wide range of sewing steps.
Control of notches, buttons, holes, wire guides, texts, lines, circles and other elements for editing and size development.
Definition of the fabric during the laying and the placing of the pieces. Ability to recreate the fabric, through its relationship, or simply scan it.
Total freedom in the colors and in the definition of the type of line for the objects, the pieces, the interiors, the stitching, the positioning.
Ability to change every parameter with a simple mouse click during your work. There is no need to navigate through numerous menus and commands. There is no need to restart the job due to incorrect calculations.
Easily extend the Reports.
Parts information report on Excel for further evaluation or integration with your Excel tables of your choice.
Simplicity in optimizing the cutting order.
On-line help for menus, tools and configurations.
Help videos for several instruments and configurations.
Ability to send piece files to each FTP address on the net.
Export of model files to a wide variety of plotters, cutters and other CAD formats.
Customizable toolbar and workspace.
Familiar Windows work environment for easy navigation.