PLM Bags: What to expect from a performing PLM
15 September 2018 10:59 - 10:59
Whatever the kind of implementation and the interface with which the PLM system for bags and accessories is presented, it aims to provide immediate access to information about a product – be it, for example, technical specifications for its development or distinct bases for its manufacturing or even commercial data – as well as a unified form for managing data relating to it. Thanks to a PLM it is also possible to publish online any type of information, and to share information between different departments, thus reducing old errors due to loss and non-availability of files, failure to communicate between the parties, not updating of data, reducing the number of samples and physical prototypes, and other critical aspects of traditional design and production methods. Therefore, PLM reduces time, leads to better cost organization and better quality. From the point of view of the internal company organization, the exchange and simultaneous sharing of information finally leads to a collaborative and concurrent work philosophy, with separate teams that together collaborate and share information about the product.
Thus, three precise and fundamental objectives:
Reduction of costs and development / production times.
More generally, reduction of the overall time-to-market.
Quality improvement.
Consumers increasingly want leather accessories with an increasingly sophisticated design and on the other hand the cost of the raw material rises. It is very difficult for companies to place products in the market that meet the real needs of consumers, respecting the right timing and deadlines, creating value throughout the organization and at the same time having an adequate margin.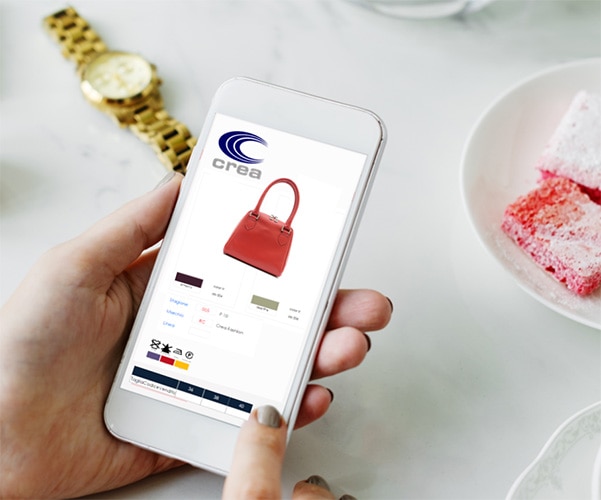 What to expect from a performing PLM for bags and accessories?
The transparency of data and the centralized organization of all information, models, skins, fabrics and sketching are the characteristics expressly requested by a specific PLM for bags and accessories. The PLM for bags (Product Lifecycle Management) is a business tool to date necessary for fashion companies that allows an optimal management of processes as well as a perfect flow of data and information along the whole value chain, thus perfecting both inter-company communication as well as that with suppliers. As a result, there are more efficient processes, a significant reduction in the time to market (i.e. the time required to bring a product to market), an increase in product quality, due to better communication with suppliers and consequently to a better-quality control management.
Tex Define ™ is the PLM fashion system for bags of Crea Solution that allows you to represent within the system the entire cycle of product development, from planning a collection to the definition of the models, the order of samples, the evaluation of models and to the cost calculation. The various departments involved in product development work with a centralized system and always have the guarantee of having the most current product data available and of being able to constantly monitor the progress of the development of this product. Furthermore, this specific PLM for bags and accessories allows avoiding redundant data entry. In fact, different interfaces allow the transfer of this data both within the system and from and to external systems, as for example it can be an ERP system. The idea behind Tex Define ™ in its PLM for bags version is intelligent process management. The process of creating a product brings with it the creation of countless data that must not only be entered into a system but also managed in an accurate manner. All data relating to a model and a collection are retained within the system in such a way as to be easily found, manageable and transferable.
One of the great advantages of Tex Define ™ is undoubtedly the flexibility of the system and its adaptability to the specific needs of a company that produces bags and accessories. Many PLMs for bags are in fact predefined, especially when it comes to data entry. So, it often happens that companies have to adapt their processes to the system instead of vice versa. A PLM system must instead be able to adapt to the needs of a company and to reflect its processes. In fact, the competitive advantage of many brands is often found in the management of processes that must also be considered within a PLM system.
Tex Define ™ is a modularly built program. This means that only what is needed can be purchased. Should the needs change later, the system can be expanded at any time. Thanks to the technology "What you see is what you get" (WYSIWYG), expansions and adaptations of the database can be carried out without knowing the macro language or knowing how to program. The license can in fact be exploited to the maximum already by a user who has a good knowledge of databases.