Lotta & VStitcher September 2020 release
22 October 2020 15:05 - 15:05
Browzwear e Crea Solution annunciano l'ultima release del CAD 3D per l'industria dell'abbigliamento, migliorato per aiutare sempre più le aziende ad incrementare l'efficienza, ridurre la produzione dei campioni ed accelerare il time to market.
Fold and Hang Workspace
Created to meet customer demands for additional ways of presenting garments as they are most frequently shown in merchandising settings, this new workspace in VStitcher enables designers to easily and realistically show their creations folded, hung or floored.
Because VStitcher provides accurate representation of fabric, reflecting the weight, drape and other qualities of the physical counterpart, the 3D items look exactly like they would in real life even when they are laid on a table, folded or hung.
In contrast to alternative solutions, which often either provide pre-folded templates or require the work of 3D specialists able to completely recreate the garment in the desired form, Browzwear's method is an intuitive analog to folding a garment in the real world. Not only does this give designers complete freedom to style the garment in their preferred manner, they can complete the process in half the time it would otherwise take.

Olivia, the New, Hyper-realistic Parametric Avatar
The new version also brings new flexibility to import parametric avatars created in external software into VStitcher without risking loss of fidelity to the original parameters. This allows brands to use the avatars that best represent their target shoppers.
Browzwear will continue to enhance the avatars' customization options in order to offer customers a fully-inclusive set of true-to-life avatars that realistically represent the diverse array of ethnicities in the world.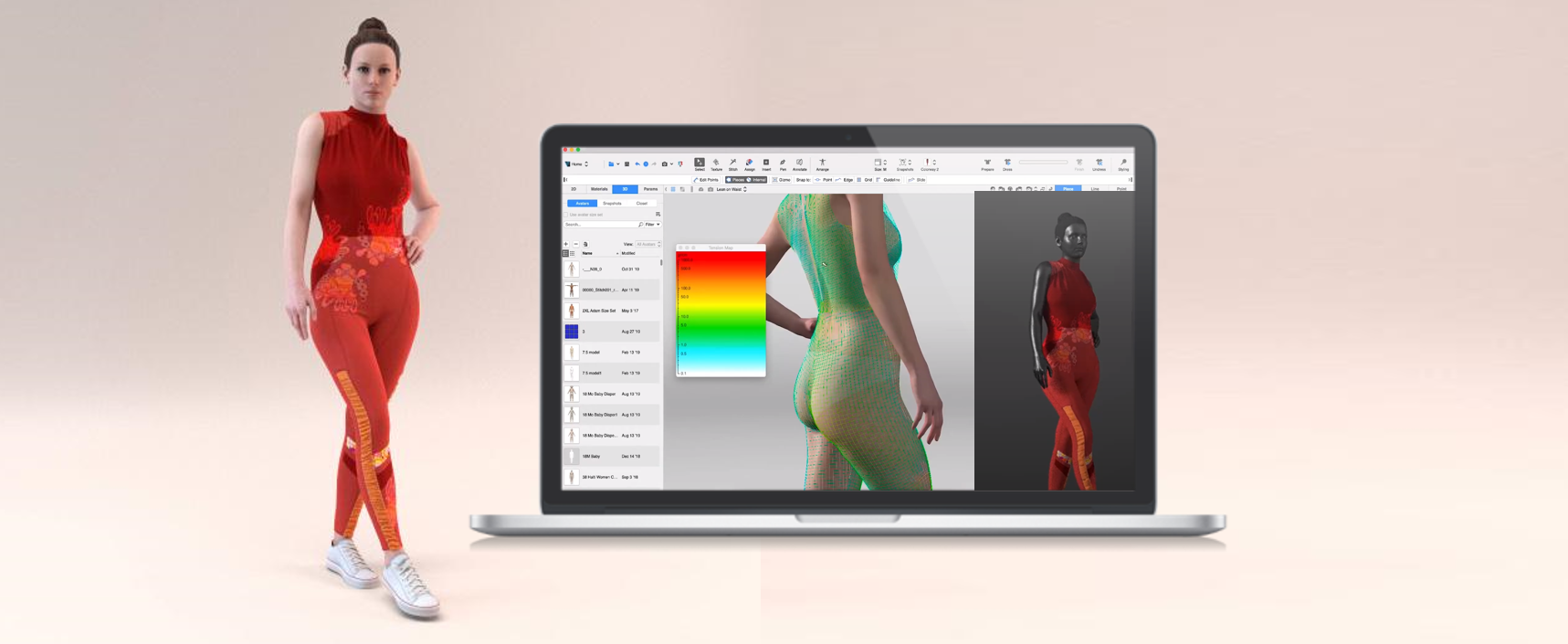 3D Trim Editing with Support for Texture Maps
The updated version also introduces new flexibility when working with garment trims such as buttons and zippers. Whether using trim options from Browzwear's library or custom trims created with Browzwear or other solutions, they now have more freedom to change the texture of the trim directly from the software. This includes the ability to add PBR maps to the 3D trims directly in VStitcher, which enables them to achieve the most true-to-life quality without the need to create and import another 3D trim.

Animation Compatibility
The new version of VStitcher also includes support for more file formats commonly used with animation software. Adding to VStitcher's existing ability to export animated garments in OBJ and FBX file formats, the software is now supporting variations dedicated to animation including OBJ+MDD and FBX+MC. This greatly increases designers' ability to bring their 3D designs to life, which is growing in importance as both the COVID-19 pandemic and concerns about climate change necessitate the industry's increasing digitization.